The Lower Back
Low back pain is the single most leading cause of disability worldwide. Experts estimate that 80% of us will experience a back problem at some time in our lives. Despite knowing this, we are all guilty of taking our lower back for granted – we continue to lift heavy objects awkwardly, and we sit slouched in front of a computer or when driving for long periods of time.
Our lower back, or lumbar spine, is the main load bearing vertebrae in our spine. It consists of 5 large vertebrae, labelled L1-5. The lumbar spine connects the thoracic spine, or mid back, to the pelvis. Between each of these vertebrae is a shock absorbing disc which prevents bone on bone compression. Over time however, with everyday stresses with work, sport and normal daily tasks, coupled with poor posture or lifting technique, and weak core muscles, failure with any of these structures can occur.
Spinal nerves exit at each level and supply different areas down the legs. Because of this nerve supply, it is possible to have a back injury that is causing pain referral or even tingling or numbness to the lower extremity.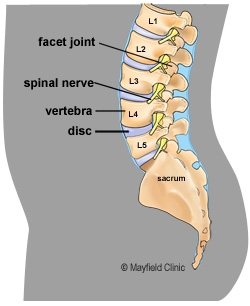 How Physio mechanics can help
If left untreated minor back injury can quickly develop into recurrent chronic low back pain. Physio mechanics can help. On your first visit we will perform a thorough initial assessment allowing us to confirm your diagnosis and answer any questions you have. From there we will devise an individualised short term treatment plan to relieve your current symptoms, and a long term plan to prevent future reoccurrences.
Common low back physio treatments include massage, trigger point release, joint mobilisations to encourage movement or unload discs, and stretching and core strengthening exercises. If you are suffering from any low back aches or pains ring today and arrange an appointment with one of our expert staff.
Book an appointment today
and experience first hand why
we are so different from any
other physiotherapy clinic.